Do you wish to get started with a smart home? There are multiple ways to do this and some of them you can even install by yourself. We have gathered 5 ways to easily get started today.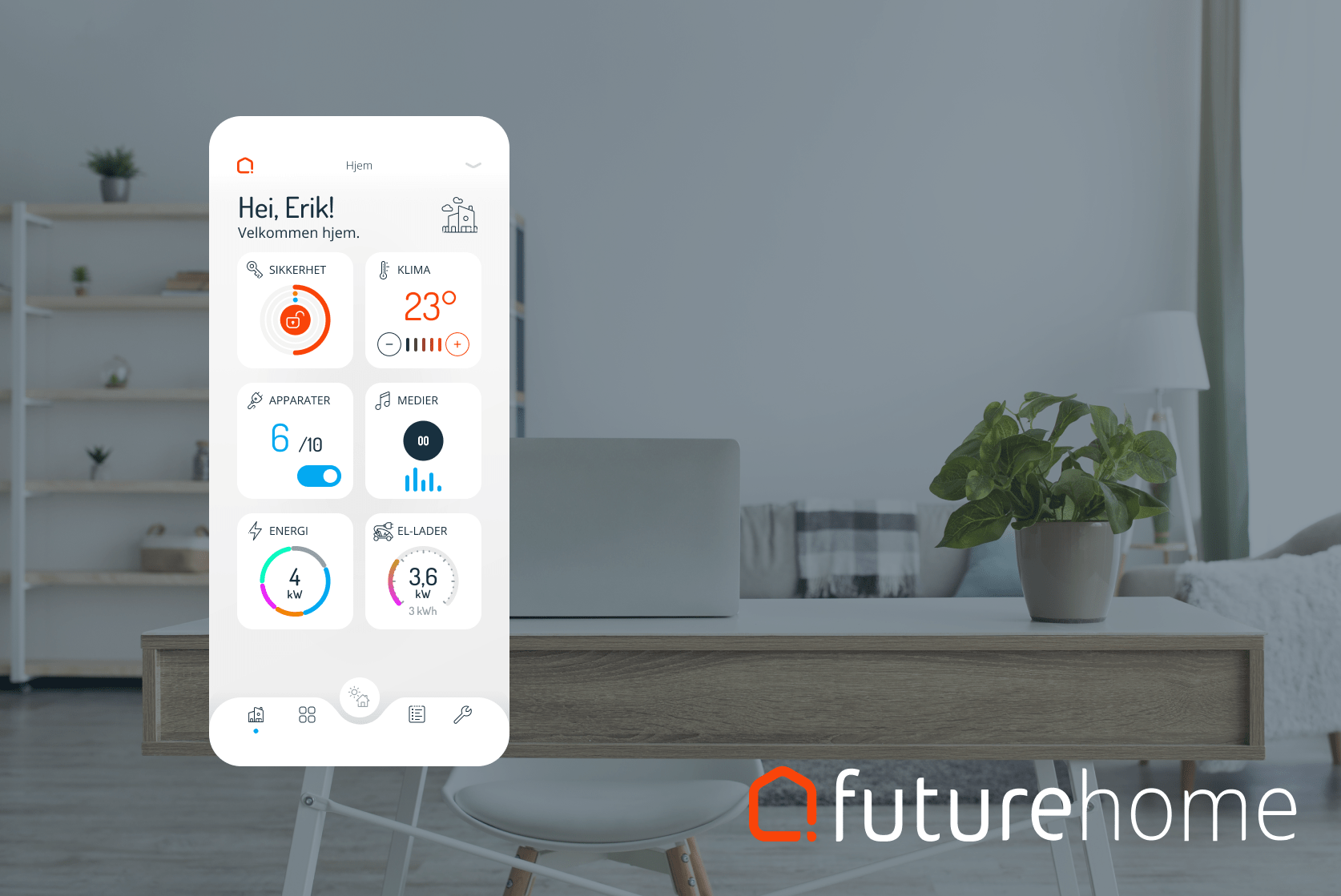 1. Smart lighting
Smart lighting is one of the first things people associate with a smart home and is also one of the first things people notice in a smart home. With Futurehome there are multiple options to control your lights directly from your phone, without the help from an electrician. With smart bulbs from IKEA-Trådfri, Namrom or Phillips Hue you can control your light bulbs directly from the Futurehome app, also through modes, shortcuts and automations. In addition to smart light bulbs you can connect different lamps to your smart home with a smart plug. You can turn off or on lamps directly from the Futurehome app.
2. Smart climate control
One of the other most popular smart home devices is climate control. How practical isn't it to be able to adjust your temperature directly from your phone and not having to always adjust your electric radiators? If you have a Smarthub, a smart wall plug and a motion sensor you can easily set up your own heating system. With the help from a wall plug and a motion sensor you can control your electric radiator and the temperature directly from the Futurehome app. The radiator will also adjust the temperature to your wish based on the actual temperature in the room.
3. Smart energy control
With a HAN-sensor from Futurehome you can get full control over the energy consumption in your home. You can adjust your habits for a more energy efficient everyday life, while remaining as comfortable. Read our best energy saving tips here. If your smart, cabled devices support power measurement you can also see how much electricity each device uses. For example lighting and heat through smart plugs and selected thermostats and dimmers. You can get started with smart energy supervision by calling your energy provider and request that they open the HAN port. There install the HAN-sensor and connect it to Futurehome and get real time information directly into your Futurehome app.
4. Smart fire alarms  
Futurehome also offers smart fire alarms that among other things detect electrical fires up to 2 hours before a regular smoke sensor. Our smart fire alarms detect a rise in temperature, development of smoke and carbon monoxide gas. You will get notified through the Futurehome app, with a siren and with voice alerts. This is the complete smart fire alarm that keeps the whole family safe. With voice alerts it is easier for children and older people to hear the fire alarm and wake up if there is a fire. You can set up the battery driven smart fire alarm all by yourself, all you need is a Smarthub and the fire alarm itself.
5. Smart  water leak sensor
There is a water leak in a Norwegian home every 8th minute, but the biggest damages can easily be avoided if you're alerted early enough. With a smart water leak sensor from Futurehome you will get notified directly in the app and through a local siren if water is detected in exposed areas. You can easily install the water leak sensor by connecting it to the Futurehome app and placing it in the areas exposed to water leaks.
Did any of these options sound interesting? Get started in our web shop today or keep an eye out for our newsletter and our Facebook.
Back to blog list